Our Menus
Buffet
Buffet
Continental Breakfast
-
38
Hot dishes excluded.
Breakfast Buffet
-
43
Monday - Saturday
Breakfast Buffet
-
49
Sunday
Lunch Buffet
-
69
Monday - Friday
Lunch Buffet
-
83
Saturday
Dinner Buffet
-
83
Monday - Thursday
Dinner Buffet
-
95
Friday & Saturday
Dinner Buffet
-
83
Sunday
Family-friendly Dining Policy
Children under age 7
-
Complimentary dining with any paying adult
Children aged 7 - 12 years old
-
50% discount on buffet price
À la carte
International Burgers & Sandwiches
International Burgers & Sandwiches
-
32
Bacon, fried egg, smoked turkey, lettuce, tomato, mayonnaise and fries
Rueben Jaffle
-
34
Thick Texan bread toasted with sliced corned beef, sauerkraut, gherkins, Swiss cheese, Russian dressing and fries
Open Faced Sandwich (V)
-
26
Fresh avocado with ricotta, healthy sprouts and shoots, Roma tomato, char-grilled "Gatton" pumpkin, served with sea salted potato crisps
Grand Beef Burger
-
34
180 gram "Lockyer Valley" beef burger with charred bacon, crispy onion rings, tomato, Mersey Valley cheddar, house made barbeque sauce, toasted bun and fries
Salads
Baby Beetroot Salad (V)
-
27
Roasted baby beetroots with candied eshallots, toasted hazelnuts, "Riverdale" hydroponic baby watercress, picked herbs from our garden and caramelized red wine dressing
"Bang Bang" Chicken Salad
-
29
Our version of the classic Chinese salad. Poached and shredded chicken, cucumber, shallots, baby tomatoes, endive and sesame dressing
Heirloom Tomato Salad (V)
-
27
Mixed heirloom variety tomatoes with picked basil, shaved red onion, Vincotto, extra virgin olive oil and walnut rye bread
"Ancient Grains" Salad (V)
-
27
Toasted faro grains with celery hearts, confit of leek, roquette, Harrisa yoghurt and smoked almonds
Chicken Caesar Salad
-
32
"Pilton Valley" baby gem lettuce with shaved parmesan, crispy prosciutto, grilled chicken breast, white anchovies and dukkah spiced hard-boiled egg
Soups
Spiced Prawn Laksa
-
25
Fragrant coconut and fish stock with sustainably caught poached prawns, fish balls, tofu puffs, egg noodles and fresh herbs from the hotel's garden
Cauliflower Soup (V)
-
18
Braised "Lockyer Valley" cauliflower blended with kipfler potato, served with crème fraiche and "Charcoal" brioche
Pizza Classic Base (gluten free bases available on request)
Italian Style Sausage
-
30
Italian style "salsiccia" sausage with fire roasted peppers, caramelized onions and Provolone cheese
Shrimp and Chorizo
-
32
Sustainably farmed Queensland prawns with a chorizo crumble, avocado, Manchego cheese and parmesan blend
Margherita (V)
-
27
Slow roasted tomato and basil sauce with mozzarella and parmesan
Lighter Options
"John the Baker" (V)
-
14
A selection of bread from our in-house baker with a beetroot and fetta pesto and extra virgin olive oil
Chicken "Lollipops"
-
25
Korean style chicken wings with a Gochujang sauce and Nashi pear and wombok slaw
"Mac and Cheese" (V)
-
21
Macaroni and cheese croquettes with Sriracha mayonnaise and black volcanic salt
Kataifi Prawns
-
28
Kataifi wrapped prawns with compressed watermelon, whipped fetta, toasted pistachio and verjuice dressing
12 Ocean King Prawns
-
36
"Mooloolaba" ocean king prawns with Marie Rose sauce, fresh lemon and mini baguette
Oysters (Pending availability - we source seasonal Sydney Rock and Pacific oysters)
6 / 12 Natural with fresh lemon
-
22 / 44
6 / 12 Kilpatrick with bacon and Worcestershire sauce
-
24 / 46
6 / 12 Mornay with a creamy white sauce and Emmental cheese
-
24 / 46
6 / 12 Crispy fried with chilli and soy bean mayonnaise
-
24 / 46
Main Course
Crumbed Snapper
-
38
Panko crumbed snapper with pickled "Innisfail" green paw paw, wakame, spiced mayonnaise, pea tendrils and fries
Nasi Goreng (V)
-
28
Wok fried rice with Asian mushrooms, fried tofu, seasonal vegetables, caramelized soy dressing topped with fried egg and crispy prawn crackers
Lamb Korma Curry with Potatoes
-
38
Paratha bread, cumin pappadums and spicy lime pickle
"Poke" Bowl (V)
-
30
Japanese short grain rice with spinach, sweet potato salad, avocado, sweetcorn, edamame, wonton crisps and "Goma" dressing
Meatballs
-
32
Pork and veal meatballs with pancetta, rich sugo sauce, pappardelle pasta and pecorino
Olive Gnocchi (V)
-
30
Pan fried olive gnocchi with seasonal mushrooms, toasted walnuts, mascarpone and crispy fried sage
Sides
Warm Asian greens with sesame dressing
-
10
Garden salad with lemon dressing
-
9
Off the Grill
Chicken breast (skin on)
-
42
Mt Cotton, Queensland
Rib eye fillet 300 gm
-
56
Darling Downs, Queensland
Catch of the day
-
46
South East Queensland
Moreton Bay bugs (barbecued)
-
46
South East Queensland
Junior Guest Menu
"The Little Snapper"
-
21
Crumbed snapper with fries, mayonnaise and lemon
Bowl of Spaghetti
-
16
Olive oil dressed spaghetti with shaved parmesan
Ham and Cheese Jaffle
-
21
Sea salted potato crisps, red delicious apple and a bottle of water
Vegetarian Sushi Selection with Soy Sauce
-
16
Served with slices of green apple
Mini Falafels (V)
-
21
Junior sized falafels with herbed yoghurt and wilted spinach
Neopolitan Sundae
-
16
Chocolate fudge sauce, ice cream wafers
Chocolate Strawberry Parfait
-
16
Chocolate mousse, raspberry jelly and fresh berries
Kids Fruit Salad Popsicle
-
16
Desserts
Blackberry Jam Doughnut
-
23
Warm doughnut dusted in lemon sugar, served with a blackberry sauce and Belgian chocolate ice-cream
Snickers Cheesecake
-
23
Caramel fudge, "Kingaroy" peanut brittle and coffee gelato
Vanilla Bean Brulee
-
23
"Glasshouse" pineapple gel, toasted coconut and lime marshmallow, lychee sorbet
Warm Callebaut White Chocolate Brownie
-
23
Chunky white chocolate with a blood orange gel, caramel popcorn and connoisseur ice-cream
Rhubarb and Apple Crumble
-
23
Warm rhubarb and "Granite Belt" apple crumble with cinnamon ice-cream and a strawberry compote
Vanilla Bean Pannacotta
-
23
Daintree vanilla bean pannacotta with mango jelly, pineapple and Malibu granita and meringue sticks
Seafood Buffet
The carefully selected Australian produce presents a delicious array of fresh local and international dishes at Terraces Restaurant. Fresh seafood including oysters and prawns; freshly baked bread and pastries; comforting roasts and a delectable range of desserts are just some of the options on display at the buffet. Renowned on the Gold Coast as being the buffet of choice, connect with your friends and family at Sheraton Grand Mirage Resort, Gold Coast's Terraces Restaurant.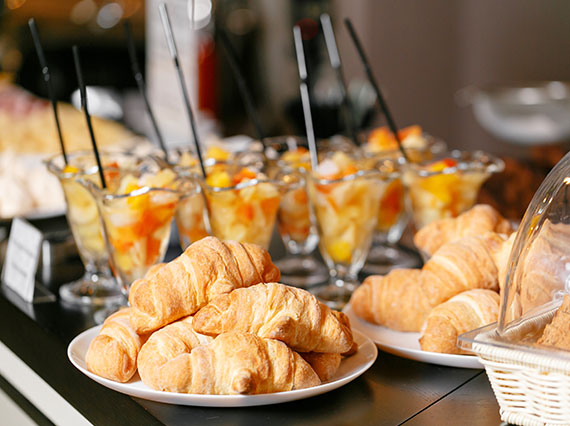 À La Carte
Alternatively to our Buffet, enjoy a range of items from our À La Carte Menu. Enjoy a range of dishes such as our "Bang Bang" Chicken Salad, the Poke Bowl, or the sumptuous Snickers Cheesecake make with Kingaroy peanut brittle. For groups over 9 people, see below.
Group À La Carte Dining
For groups over 9 people, please see our special menu and for groups over 15 people, please contact Terraces Restaurant directly to confirm your booking.